MEDIA PLEASE NOTE: Per the artists' request, no media photos or video will be allowed at King Crimson's Show at Eastman Theatre
Rochester, NY--June 30, 2017--
It's the last two days of the
Xerox Rochester International Jazz Festival
16th Edition. The virtuosic musicianship and live improvisations of veteran performers of King Crimson's veteran performers will take fans on an unforgettable musical journey through their hallowed repertoire! King Crimson headlines at Eastman Theatre at 8 p.m. Limited tickets available.
It's the last day of the free Youth Jazz Workshops sponsored by Wegmans. The workshop starts at 1:00 - 2:30 p.m. in Room 120 Ray Wright Room at Eastman School of Music. No preregistration required, just show up.
The free Jazz Starts at Noon series concludes today at the Rochester Monroe County Library at 12 noon. Bring your lunch.
Two Jam Sessions await late-night fans tonight at the Radisson Hotel Rochester Riverside starting at 10:30 p.m. Bob Sneider and his Trio head up the traditional Jams in the Riverside Ballroom. Karl Stabnau and his quartet lead his Soul'd Out Jams in Legends Bar and Grill.
The festival wraps up tomorrow, Saturday, July 1. The festival is featuring more than 1500 artists from 18 countries and more than 325 shows. It is presented in three series - the
Club Pass Series
with 230+ shows, the
headliner series
of six shows and
95 free shows
and events. The festival's 19 indoor and outdoor venues all within walking distance in Rochester's East End Cultural and Entertainment District.
Media Resources & Information
Brochures & Program Guides - at Ticket Shop and venues
Ticket Shop - 100 East Ave at Gibbs St. 10 a.m. - 11 pm. daily
Visitor Info - VisitRochester Booth, Jazz Street
ATMs - Courtesy M&T Bank, located all around the fest, see map
First Aid - outside the Merchandise Tent on Main Street
Lost & Found - Ticket Shop
Bike Racks - in Big Tent parking lot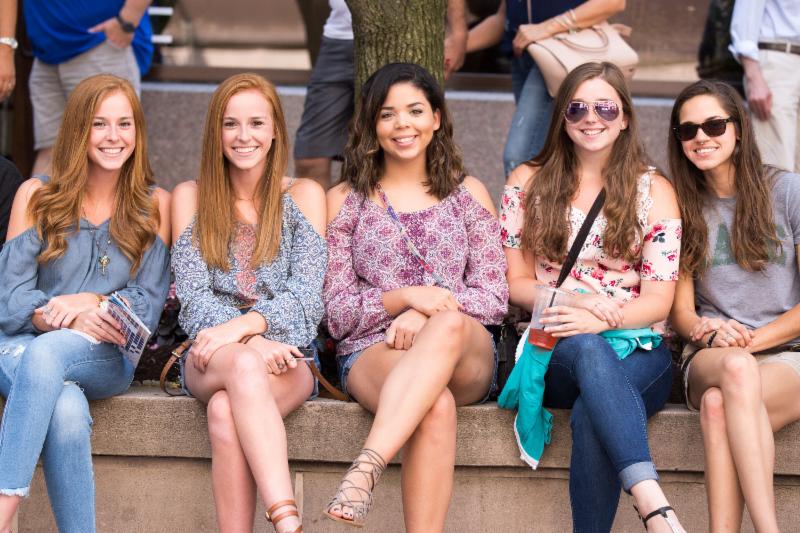 Jazz Fans - Photo for XRIJF by Mark Druziak
Happening Around The Fest
Uber Ride-sharing Now Available!
Free Shuttle Service
sponsored by Harris Beach PLLC. Runs continuously
around the festival
from 3 p.m. to midnight. It takes approximately 30 minutes for the shuttle to make the route and return to each stop depending on traffic. Wheelchair accessible. Look for Shuttle Stop signs. want to know where's the shuttle is? Download the app or visit the web and find it fast!
Share Your Feedback
- Please take our
annual survey
during and after the festival and let us know how things are going.
Merchandise Tent - 4-11 p.m. daily, Jazz (Gibbs) Street, official festival merchandise, personalize many items, Xerox Photo Opp, D&C Digital Virtual Reality, charging stations, free Wi-Fi and more.
Food, Food Trucks, Vendors
- on Main Street, East Ave, outside Rochester Regional Health Big Tent, inside Max, Montage, Big Tent, Harro, Wilder Room and Little Theatre venues.
Food Guide
Donate Musical Instruments - from 5-7:30 p.m. daily in the Merchandise Tent
Move to a Healthy Groove
- Rochester Regional Health Street Teams will have ear plugs and sunglasses and other useful items. See Bubble Man on Friday and Saturday nights from 5:30 p.m. to 9 p.m. on E. Main St.
Perks for Club Pass Holders
LiDestri's Rye Room Hospitality Tent - Show your Club Pass or VIP Pass and enjoy access to this special Lidestri Hospitality Tent next to the Rochester Regional Health Big Tent at the corner of Chestnut St. and E. Main St. A cash bar features LiDestri beverages and food from Aunt Rosie's. Screens stream concerts from the Big Tent.
Xerox Smart Prize Cards - Receive a Xerox Smart Prize Card when you redeem your Club Pass ticket for your Club Pass. Bring the card to the Merchandise Tent on Jazz Street and insert it into the reader. Everyone is a winner!